The other day at work I was listening to music by Taylor Swift. If you don't know who she is, she started out singing country music and then switched to pop.
Here's one of her older pictures: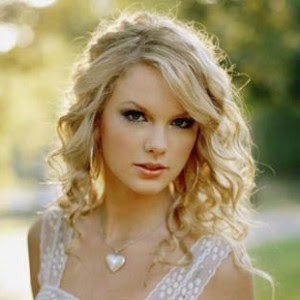 And here's one of her more – somewhat – recent pictures. (Sorry, I can't keep up with her changing hairstyles so I apologize if this isn't the most recent. But I digress!)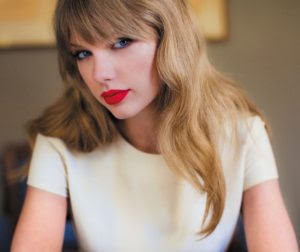 Taylor quickly rose to fame for her songwriting skills. So this thought came to mind when I was listening to her music and really focusing on the lyrics….
If Taylor Swift wrote a book would I read it?
Besides the fact that the novel would have her name stamped across the cover, what if she took her songwriting ability and translated that into fiction. Some of her lyrics speak of life, love, and heartbreak. Here are some opening lines** I could imagine reading if I cracked open one of her covers.
"He's the reason for the teardrops on my guitar." – Teardrops on my Guitar
"Band-aids don't fix bullet holes." – Bad Blood 
"It turns out freedom ain't nothing but missing you." – Back to December
"Are we out of the woods yet? Are we in the clear?" – Out of the Woods (This sounds suspenseful!)
"She had either dodged a bullet or lost the love of her life." – I Don't Wanna Live Forever
"The worst part of my story wasn't losing him, it was losing me." – I Knew You Were Trouble
"All I know is we said hello and his eyes looked like coming home." – Everything Has Changed
"It's going to be forever or it's going down in flames." – Blank Space
"The story of us looks a lot like a tragedy now." – The Story of Us (Definitely a tearjerker!)
My question to you is, which one of these lines grab you if you read it on the page? Comment below with your favorites!
**All lines are either direct quotes of Taylor Swift's lyrics or paraphrases
———————————————————————————–
By day, Kelly D. Scott is buried in Excel spreadsheets, which is why she must write.
She graduated from Texas A&M University with a BBA in Accounting and, almost ten years later, she completed her MS in Accounting at UT Dallas. She wrote her first manuscript in 2017 when a photo in People magazine sparked an idea. 130,000 words later, that book is parked safely under her bed.
Kelly resides in the Dallas area with her illustrator husband (whom she met on Eharmony) and her two boys. She has lived in Texas all of her life, except for two and a half years when she was a missionary in China and Thailand. Oh, and she did spend a summer as a missionary in Australia where she learned how to do the Tim Tam slam. When Kelly isn't writing or lost in Excel, she enjoys reading, cooking, baking, watching football, and spending time with her family. She is a member of ACFW.
https://www.facebook.com/kellydscott/
---